15 Women Confess Their Vagina Horror Story
Monday, Aug 31, 2020, 4:43 pm
The genitals are one of the most sensitive parts of a human body. They require a lot of attention and care, without which things can go terribly bad. We are all humans. Making mistakes is something that's in our DNA. Here, in this list, we have fifteen women who shared some really shocking and horrifying stories related to their vagina. Be well prepared, as some of the stories can make you cringe really hard!

10.And This Bloody Mess

I fell asleep on the bus, and I bled through my black leggings. They were soaked when I got to school, and I didn't want to sit anywhere and leave another puddle of blood, so I decided to sit on my foot because I thought it'd eventually dry. I was wearing white keds that day, so when I got up, my entire foot was covered in period blood. I still haven't forgiven my vagina.
-isabellec4bd6fa41a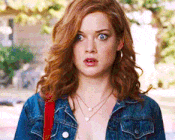 Source