12 Funny Little Moments Found In Movie Credits
Monday, Jul 4, 2022, 1:02 pm
Closing credits. Ain't nobody got time for that?! Just how we never read EULA while installing an app or a game, we never care to sit and watch the closing credits of a movie as well. Most of us simply get up and leave the theater the moment we see movie credits rolling on the screen. Frankly speaking, end credits are boring. However, in some rare cases, movie credits made spectators laugh hysterically. Take a look at the 12 unusual and funny instances found in movie closing credits that made moviegoers laugh hysterically!
#3 Black Guy - Samuel L. Jackson


Samuel L. Jackson is a millionaire
today, but in the beginning, he was the son of a widow who worked as a factory worker to take care of her family. Jackson struggled a lot during the early years of his Hollywood career. He had to play minor roles in movies to keep things moving. Before Samuel L. Jackson became a big name in the show business, he had played a small role in, Sea of Love (1989). The "
Pulp Fiction
" star portrayed a black criminal in the movie. The name Black Guy in the picture is referring to the role. Tidbit: Samuel L. Jackson used to
stutter
when he was a kid!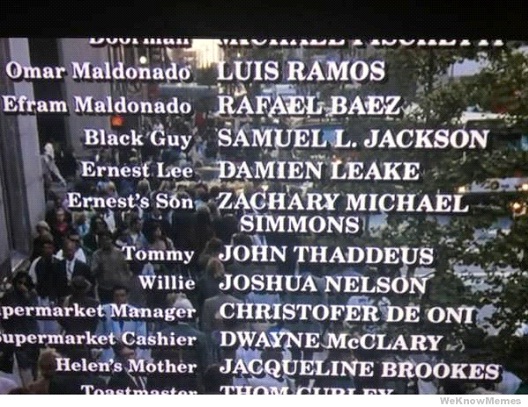 Report