Hilarious Santa Claus Fails
Tuesday, Aug 10, 2021, 12:32 pm
1.Odd Man Out Santa

One of these things is not like the others. Santa Claus will always stick out like a sore thumb, especially when he's surrounded by a bunch of morbid-looking individuals. If these kids weren't going to smile, then there was no sense in them taking the picture. With any luck, this Santa didn't let the doom and gloom these kids possess rub off on him.
2.Marathon Santa

Even with hundreds of Santas in this marathon, a guy dressed as Jesus with a cross strapped to his back has still managed to outrun them all. None of the people dressed as Santa Claus have any extra weight on them, so there's no excuse as to why they aren't winning this race. Lesson of the day: When it comes down to it, Jesus always wins.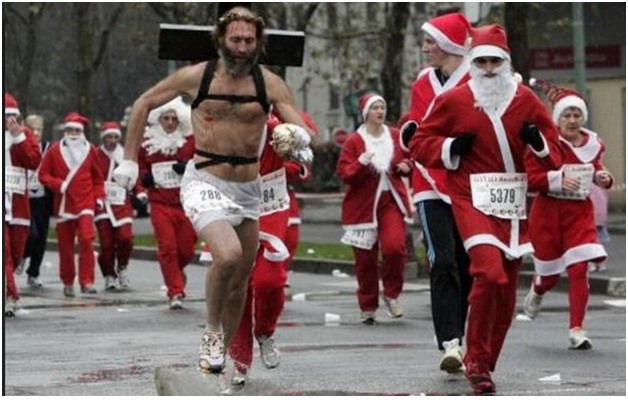 3.Party Animal Santa Claus

This Santa Claus is making a hug fool of himself. While everyone around him is wearing casual attire, this guy is dressed as a broke Santa. His beard looks like the hair that's left on the floor of a Barber Shop. On top of that, his outfit is entirely too big and he seems like reeks of dirty old socks.