15 Images That Show Miley Cyrus Has Become Trashy
Monday, Aug 16, 2021, 7:20 am
Miley Cyrus is still one of the biggest names in Hollywood and American recording industry. People talk about her music and performance. They talk about Miley Cyrus Trashy behavior as well. At a very young age,
Miley Cyrus
won millions of hearts around the world with her incredible performance in Hanna Montana. She was like any other popular Hollywood celebrity until a couple of years back, but she has now followed a totally different league, though. Fans have no clue what really happened to this girl. Most of her songs and recent stage performances are heavily sexualized. Read these fifteen trashy and bizarre things Miley Cyrus has ever done.
1.Miley Threatens her Dad Billy Ray

Yes this is true, Miley Cyrus threatened her father Billy Ray on 25th June via Twitter, and gave an ultimatum to her dad to tell her the truth, although the 20 year old didn't actually do anything after an hour past and also deleted the post from her twitter when her father himself contacted her. She assumed that the reason of both of her parents getting a divorce is because of her dad getting along with a mystery woman named Dylis Croman who starred with Billy Ray Cyrus in the Broadway production of "Chicago" last year. -Source TMZ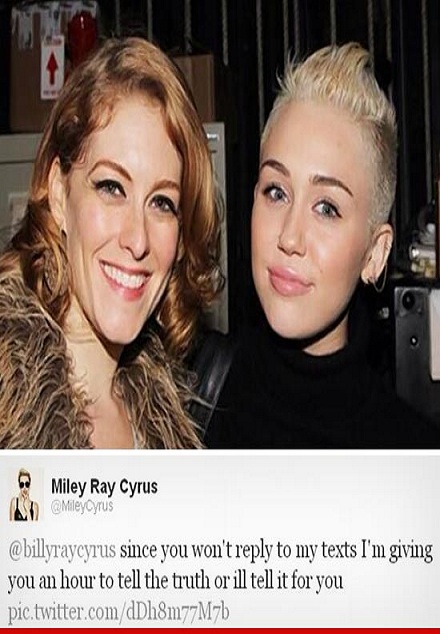 2.Miley Wearing Diapers

Back in those days when people were newly getting used to seeing a cute and bubbly young woman transform into a wild marauding turkey that can't stop twerking, Miley Cyrus shocked her fans while performing wearing a diaper at one of her "Bangerz" tour performances, stooping to a new low. She performed "We Can't Stop" from "Bangerz" (2013) music album wearing a diaper. A couple of years later, Miley appeared in a music video "BB Talk" pretending to be a baby with a diaper. While normal human beings evolve into wearing dresses from diapers, the "Hannah Montana" star seems to be aging the other way; It's the Benjamin Button movie all over again. God knows what's up with her lately, but we are sure she's soon going to get rid of the diaper too!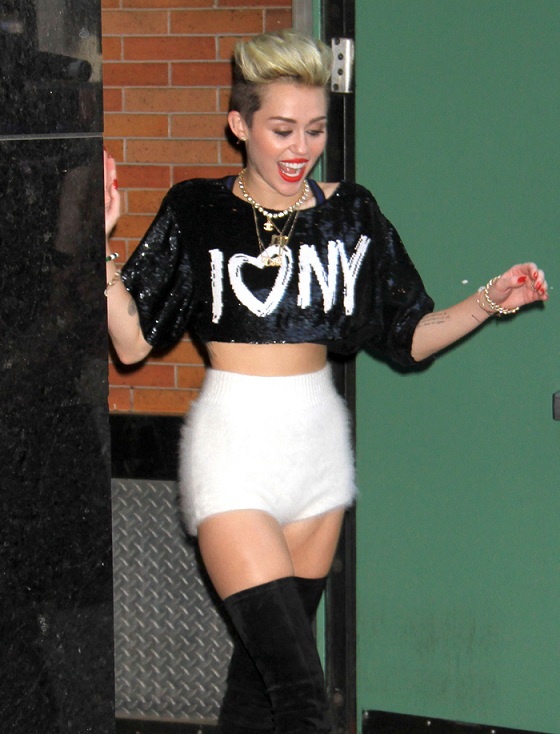 3.Miley In bed with Harry??

Miley took some heat for posing in bed earlier this winter with a cardboard cutout of Harry Styles. The star didn't understand why it raised eyebrows. While the Twit Pic was supposed to be good-humored fun for her 13-year-old sister's birthday, the Twitter universe exploded. Fans wondered about a "secret" crush. Critics wondered how much of a role model she really was to her younger sis and fans. Miley responded with the fact that she was happily engaged and that she was "just getting saucy with a cardboard cutout." Duh. 'Cuz that's what we all do from time to time.