24 Cartoons Voiced By Celebrities
Friday, Jul 1, 2022, 5:49 am
Celebrities usually give their voice to popular cartoon characters of leading animated movie franchises, of course in return for money. Almost all the recently released top animated movies have big Hollywood names listed in their cast. For example, the stars like Ben Kingsley, Bill Murray, Scarlett Johansson, and Idris Elba voiced the top characters of "The Jungle Book" (2016) movie. We don't often see celebs giving their voice to cartoon characters from the TV shows or lesser-known animated films. There are many instances in the past where celebs lent their voice to such cartoons. Check 24 celebrities who voiced some of our favorite cartoon characters from TV shows and animated movies.

#21 Jeff Goldblum As Verminous Skumm In Captain Planet And The Planeteers


Jeff Goldblum once played a giant fly in the blockbuster film, "The Fly," so it makes sense that he also voiced the character of a large, mutant sewer rat named Verminous Skumm. Skumm keeps trying to destroy the earth's ecological balance and take control of the planet. He has an army of rats. He uses the army to attack his enemies. This villainous rat is part of the animated show, "Captain Planet and the Planeteers," broadcasted on CBS in 1990, which run until 1992. The show was not a
typical 90s children's cartoon show
. The producers made the show mainly to raise the environmental awareness among children. Their prime motto was not making money out of it.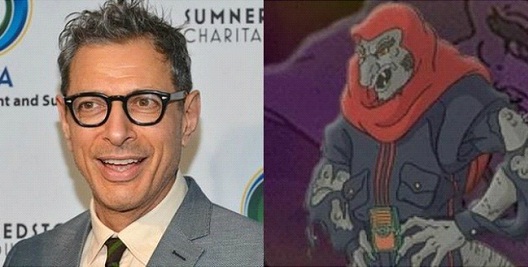 Report