15 Cutest Disney Tattoos That Will Make You Want To Have One
Saturday, Aug 14, 2021, 7:24 am
Choosing a tattoo is a tough job. There are far too many tattoo categories to choose from. Abstract designs, flowers, cartoon characters, quotes,
3D Tattoos
, what not!!! Tattoo research is an exhaustive job. The rule remains same, though. The tattoo has to be creative, understandable and neatly-inked otherwise; it may lead to
tattoo disasters for the internet to laugh about
. Disney cartoon characters are also a popular tattoo choice. Cartoon character tattoos reflect playful nature of a person. Here are fifteen Disney tattoos that look too beautiful.
#7 Cinderella Shoe


Everyone who knows Cinderella also knows about Glass Slipper a.k.a. the magical shoe. Most Disney movies and animated TV series have a magical object in them that later becomes an iconic trademark of the movie or show. The Glass Shoe is one such iconic object that belongs to the Disney's Cinderella franchise.
The tattoo you see in the picture was inked based on the famous Cinderella shoe. The shoe tattoo looks great, and it's really impressive. However, the lengthy text, which is a lyric from Cinderella's song, had spoiled the overall look of the tattoo slightly. Nonetheless, the tattoo is one of the best Disney tattoos we have seen so far.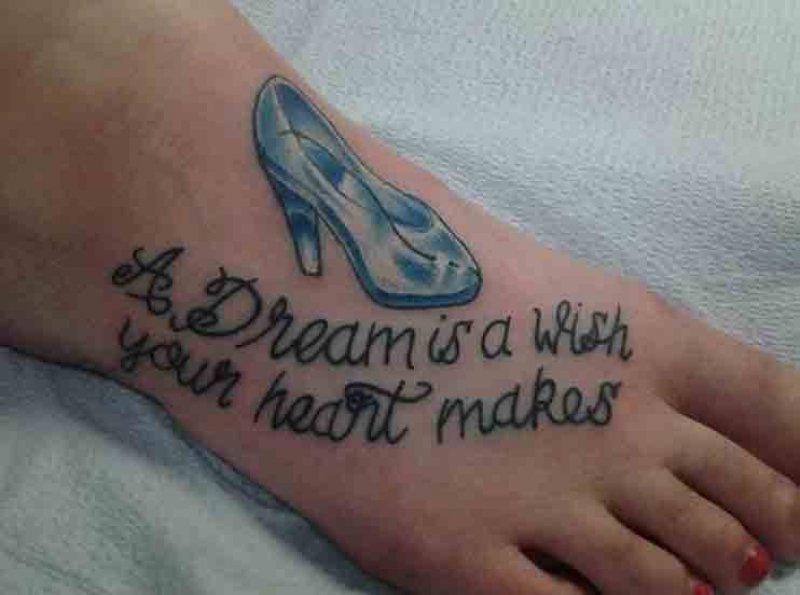 Report