15 Most Inappropriate Disney Tattoos Found On The Internet
Monday, Jul 11, 2022, 4:18 pm
Disney characters are a popular tattoo choice. Millions of people around the globe identify Disney characters. They are cute and adorable. Most of us grew up watching Disney movies and TV shows, and we have a deep emotional connection with them. Some People choose beloved Disney characters over random designs or picture for a tattoo. Some ardent fans get Disney tattoos as a tribute to their favorite shows or characters.
We usually have an impression that
all Disney tattoos are cute
! In reality, they are not. Some people tattoo Disney characters in the most inappropriate way possible. They make cute characters look creepy, devilish or sluttish. Such tattoos look so horrible that they give us nightmares. As a Disney fan, you may find those tattoos completely offensive.
Check these fifteen shocking Disney tattoos that we believe shouldn't exist in the first place! Zombie Snow White… nude Ariel… psychopath Tinker Bell and many other inappropriate Disney tattoos are all set to surprise you! Check them now!
1.Zombie Snow White

Disney Princess Snow White from Snow White and Seven Dwarfs movie is one of the most beautiful princess of Disney princesses franchise. The person who wore this tattoo changed beautiful Snow White into a horrible brain eating zombie! It's scary, creepy and there's nothing to laugh about it!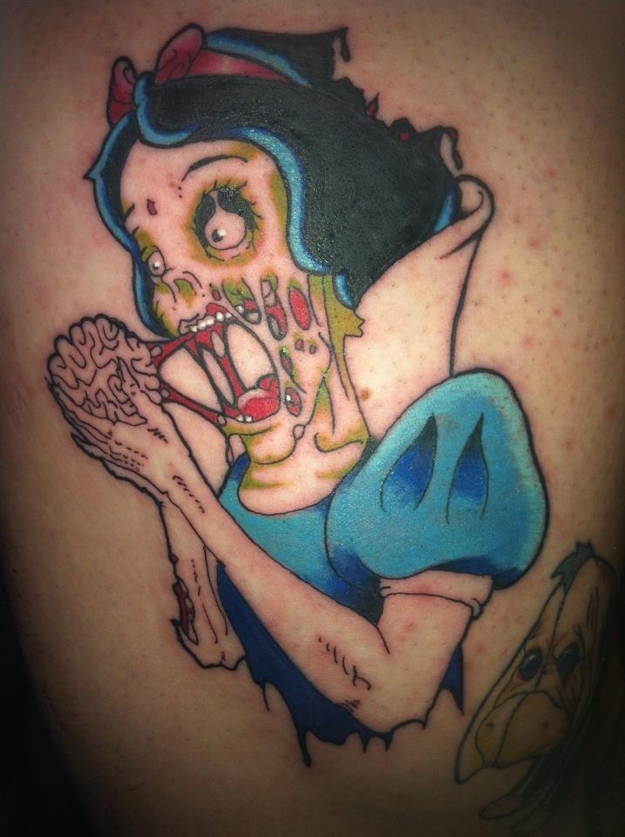 Source